What is Man: From the World of Ro and Mo Reveals The Root of Consciousness In Humanity's Existence With Faith in God
Acclaimed co-author twins Rohan and Mohan Perera bring the meaning of life to a new level of understanding
LOS ANGELES
- June 8, 2017 -
PRLog
-
Perhaps the most significant questions of all time about humanity's existence and what is consciousness are scientifically analyzed with uncommon clarity in this new release by Rohan and Mohan Perera.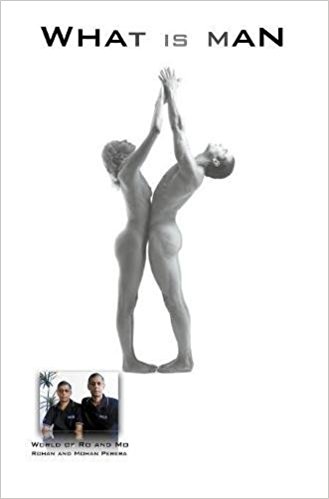 What is Man!
Ro and Mo's Empowering Book Fuses Modern Science & the Teachings of Christ; a Boundless Beacon of Hope
Written from the faith and wisdom of Rohan and Mohan Perera, 'What is Man: From the World of Ro and Mo' binds together the timeless teachings of Christ with insights from some of the modern world's most profound minds, to guide readers along their spiritual journey with gusto. In a world so often overshadowed by darkness and pain, Ro and Mo's compelling volume picks this duality apart so anyone can thrive.
Since his brother, Rohan's, death, Mohan has been left cherishing far more than just memories. The two created a blistering and life-changing self-help book unlike anything else on the market and, fulfilling a promise to his late brother, Mohan is now releasing it to the world.
'What is Man: From the World of Ro and Mo' unravels the complexity of modern humanity through a periscope of both faith and science, so readers can bask in new achievement and embrace the gifts left to them by Jesus.
"This is a very deep and comprehensive book," explains Mohan. "With chapters covering enlightenment, self-help, spirituality, leadership and prayer. It's a volume for everyone, even if they claim to be of no particular faith. Jesus has offered us all an opportunity to walk alongside him, and this book provides the guidance to strengthen that bond beyond all expectation."
It's an ideal read for anyone into inspirational or personal growth books. Let's be honest – that's everyone! Rohan and Mohan shared a bond that couldn't be broken, bound together by Jesus Christ, and are delighted now to be sharing this wisdom with readers from around the world.


Reviews
Twin authors Rohan and Mohan Perera affect readers on the deepest cerebral levels with their shared existential perspectives in a work that centers on the purpose of human existence, What is Man.
By examining matters through the lenses of the tenets of Christianity and Buddhism, this book poses an intellectually unique offering for the mind and soul, whereas the authors heartily delve into the existential issues that plague all humans; Why are we here? Who are we really? What are we?


This divinely inspired narrative imparts a compelling comparative examination of the philosophical, religious and scientific viewpoints on the elements pertinent to attaining spiritual growth and enlightenment. This possible particularly through the understanding and acceptance of God's unconditional love, which in turn ultimately parlays into becoming part of the greater loving consciousness. I found

What is Man

, to be an intriguingly edifying read with some great "aha" moments that will definitely make a connection with the spiritually inclined reader. This is a read definitely worth looking into if you are seeking to dive deeply into your spiritual life.

Pacific Reviews




The most insightful parts of the text explore how love can be easily misplaced.
The authors examine the connections between love and sex, love and money, and love and self, using "what is man"—or what it means to be human—as a central theological question throughout. The book's focus on contemporary psychology shifts the focus slightly, from humanity to the human mind.
What Is Man? is a theological work that puts the emphasis on the mind, in hopes that the heart will follow it to spiritual salvation and redemption. Foreword Magazine




In this engaging text, Sri Lankan twin brothers Rohan (now deceased) and Mohan Perera explicate their philosophy of life and religion.
The writing style of What Is Man is plain and rational, underscoring the excellent intellectual grounding of both authors. There is occasional humor and some original poetry.
Throughout, it is notable that the Perera brothers have assembled their ideas carefully, utilizing various interesting methods to share their unconventional but logic-based theories regarding life's meaning and purpose. RECOMMENDED by the (United States)'s Review of Books





Written in a very accessible style, this book reads like a beautiful gift.
What Is Man: From the World of Ro and Mo is engaging, inspirational, and downright honest.
Rohan and Mohan Perera give readers a peek at the mystery of the human person and what he or she is called to be.


A spiritual classic that considers one of the rarely asked questions but one that haunts the human mind.
This book will help any reader see the luminous light that shines within their humanity and to follow it with courage and certainty. It is very inspiring and motivational.

What Is Man (From the World of Ro and Mo) by Rohan and Mohan Perera was a unique book for me ..
I liked the way that the authors used a combination of writing styles to give me new insight into Christianity; the two styles of writing merge together with perfect symmetry. I found that the authors' use of lyrical analogies and metaphors to be beautifully chosen to enthrall me with the wonders of Christ.
I really enjoyed learning more about Christ from Rohan and Mohan. Readers' Favorite




Exclusive Author Interview With Lisa Brown-Gilbert

What Is Man! is a must-read for anyone who is seeking the meaning of life in a world that often moves too quickly

What Is Man
"What Is Man!
From the World of Ro and Mo understands this complexity of contemporary humanity and provides readers with a profoundly unique look at the word of Christ through a lens of modern science.
This fresh new perspective on Christ's teachings - alongside powerful quotes from some of the greatest contemporary and historical minds - provides individuals with a brilliant light of hope in a world that is often shadowed in pain."
Other titles, from Ro and Mo